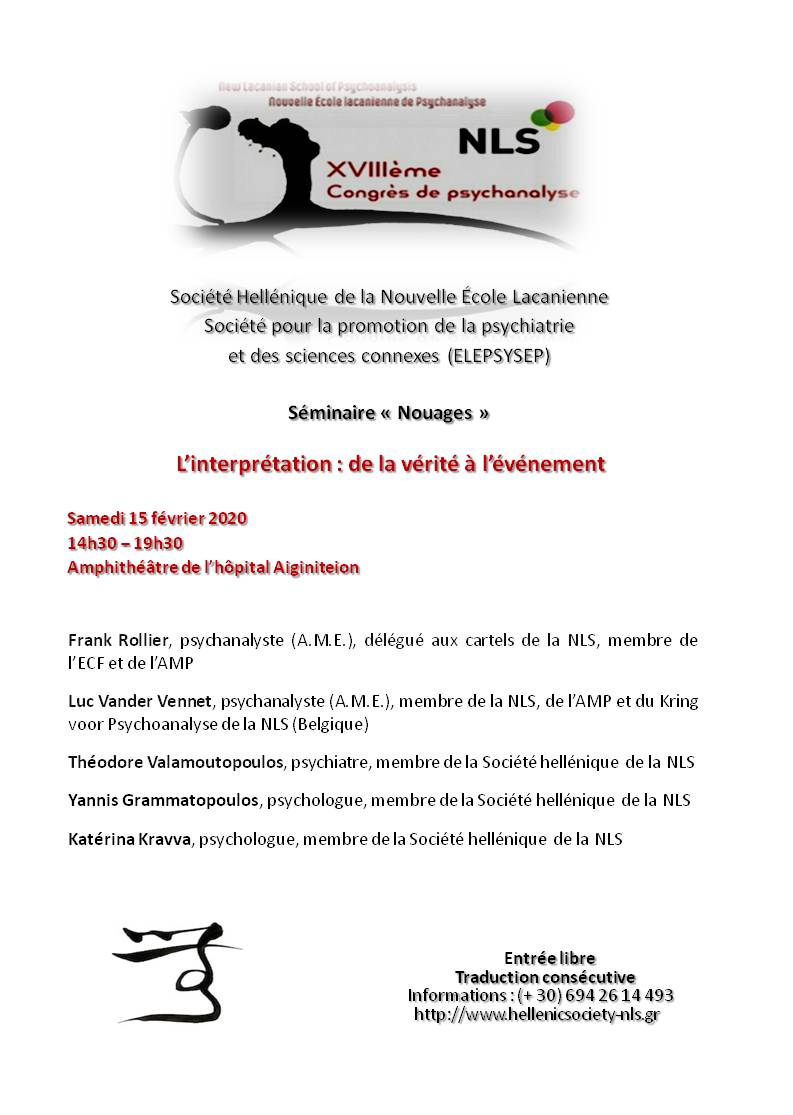 Report of the "Knottings" seminar
Yannis Grammatopoulos
The "Knottings" seminar took place on Saturday, 15th February 2020 at the full auditorium of the Aiginiteion Hospital in Athens. The day's work consisted of a presentation on the theme of the next NLS Congress by the NLS delegate for the cartels, Frank Rollier, and clinical case presentations by our guest from Kring, Luc Vander Vennet and members of the Hellenic Society of the NLS, Yannis Grammatopoulos, Theodoros Valamoutopoulos and Katerina Kravva.
Frank Rollier set the tone with a concise and engaging presentation of high standard on the different stages of interpretation in Lacan's teaching. His intervention supplemented with examples from clinical work was entitled "Producing waves" or the right way to be zen.
Luc Vander Vennet, in the clinical case he presented, was able to demonstrate in an exceptional way the three stages that concern interpretative practice as these were laid earlier in Frank Rollier's presentation.
Yannis Grammatopoulos presented the case of a patient who sought to see an analyst characterized by "seriousness" in order to overcome her anxiety about not knowing what the Other knows; interpretation was there attempted as a double movement: allowing speech to unfold and using parts of knowledge that the patient trusted in as punctuation points.
Theodoros Valamoutopoulos spoke about different versions of interpretation in the course of an analysis of a woman, which progressed along dreams and different modes of interpretations; from semantic interpretation and punctuation to event. Important cuts from a devouring jouissance appeased her anxiety and rage.
Katerina Kravva presented her work with a patient who came to analysis to overcome her anxiety about, among others, the indirectly incestuous relationship with her mother. In her case, interpretation and cuts allowed speech to unfurl and attempted to limit a melancholic jouissance at the mercy of a disoriented Other.
Commentaries and questions by the assigned discussioners followed each presentation.
Frank Rollier commented on all clinical cases, making precise and enlightening remarks about the different aspects of interpretation and its use in analysis. His elaborations concluded a productive study day that galvanized the work of the Hellenic Society on the theme of interpretation on the way to the next NLS Congress.